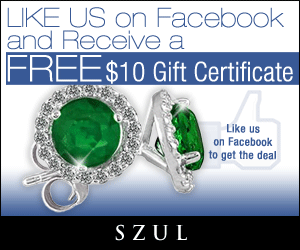 WOW!!! Hurry over 
to the Szul Facebook Page and you can get a FREE $10 Gift Certificate that can be used on Szul.com!!!
They have some INCREDIBLE deals on jewelry too!   I have posted several over the last couple of weeks — this would make it very easy to snag something nice for a gift on the cheap!
Just go to the Facebook Page and get your gift certificate here.
You will see the code on the line circled in red below:
Then head over and start shopping!! Be sure to read the terms, there a few products that it will not work on but it should work on most. Shipping is FREE!!  Valid through 11/21!