This is a sponsored post written by me on behalf of Purina for IZEA. All opinions are 100% mine.
Do you have a cat?! One of the challenges of having a cat for us was always finding the right cat litter that didn't smell bad and would clump well. 
PurinaTidy Cats is the perfect solution for that!! 
Did you know that Tidy Cats was the first to invent litter? Well now they have REinvented it by making it light weight!! With light, tight clumps, this scoopable litter is half theweight, but all the strength.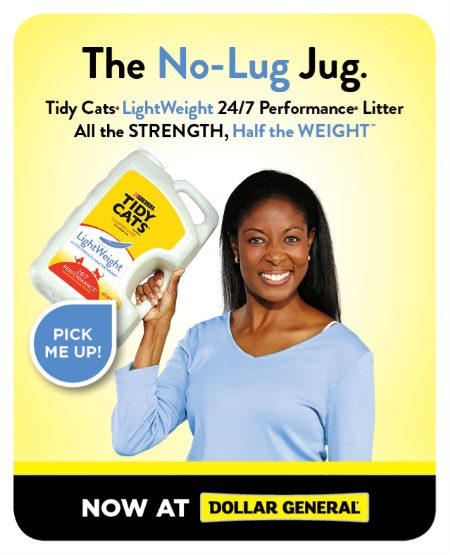 Even better? It provides continuous odor control, light & tight clumps for easy scooping, it is powerfully absorbent, and 99.9% dust free.
The weight of litter impacts every aspect of the consumer experience.Tidy Cats LightWeight delivers all the strength of Tidy Cats Scooping litter in Half the Weight.  So for those of you that have a "picky" cat, this is a great one to try too! 
Plus it is available at Dollar General in a resealable, recyclable 8.5lb Jug which is PERFECT for easy transport and not only is it lightweight, but it is light on your wallet too 😉
Nice thing is… the 8.5lb Tidy Cats Lightweight Litter is the same amount of product but half the weight of the 20lb leading scooping litter. Not bad right?!
Price is just $11.50 at Dollar General through this week!! 
PLUS 5 readers will win a coupon — just comment below with the name of your cat and I will pick 5 readers for the coupons on 12/10!
Good luck!